I'm falling asleep at my keyboard so this will not be as in-depth and analytical as the Jubilo preview (and in fact I'll probably end up re-writing some of this in the morning). I'm still trying to find a comfortable pace at which I can write this blog, but I assume anyone reading this will bear with me.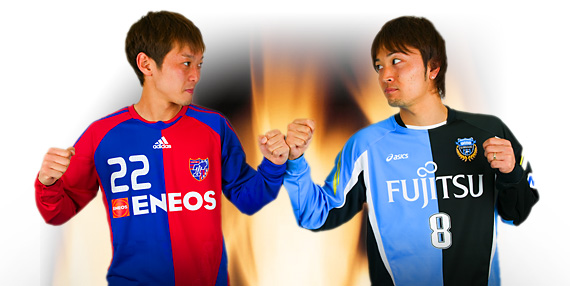 Tomorrow's match marks the home leg of the Tamagawa Clasico between Kanto rivals FC Tokyo and Kawasaki Frontale. Gasheads are still smarting from last year's 7-0 home thrashing at the hands of the dolphins, a low point if ever there was one in the dismally mediocre 2007 season. Fortunately, it's a new season and a new team, perfect for the exorcism of demons of seasons past. FC Tokyo has 3 wins, 5 draws, and 4 losses all-time in the series.  Kawasaki currently sits in 10th place and is at risk of falling several spots with a loss.
So, let's go ahead with my predictions.
How FC Tokyo Can Win
–Get the ball into the net. Cabore, Hanyu, and Otake have been instrumental in reviving the team's attack, and indeed they've had many more chances to score this year than they ever did last year. There is a difference, however, between a shot and a goal, and that can often be the difference between leaving the field with three, one, or no points. Even a shot their goalkeeper knocks away is better thana scrum in the box that the Kawasaki defenders clear to the sideline; the more pressure they put on the GK the better the chance is he'll make a mistake.
–Stop Juninho. FCT managed to keep Verdy's Brazillian Brigade in check for most of the match last Saturday, but Juninho is arguably better than anyone on Verdy's squad and will give Otake and Nagatomo a run for their money. Although the 4-2-2-2 against Jubilo worked well in creating chances at goal, expect a more conservative 4-3-1-2 to adjust for Kawasaki's offense. To counter Juninho's speed, Bruno may get another start following his appearance against Jubilo.
–Fewer turnovers. Far too many were committed against a Jubilo team that couldn't capitalize on them. Kawasaki, on the other hand, will be more than capable of making Tokyo regret its mistakes.
–Hirayama must perform. Although fans on Wednesday night were appreciative of his performance, reaction on the blogosphere afterwards shows that #13 hasn't done enough to atone for his lack of effort earlier in the season. If Cabore isn't fit to play a full 90 minutes following his early exit on Wednesday, Hirayama needs to draw his line in the sand and come through with some big plays.
Wild Card
The weather in Tokyo since the other day has been, for lack of a better word, shit. The wind is blowing, it is raining, it is damp, it is cold, it is miserable. British fans attending the match will feel right at home. I've been told the rain is supposed to stop at 12PM (kickoff is at 4PM), but whether that turns out to be true is another matter.  The condition of the pitch could certainly affect play, and if it starts raining during the match all bets are off.
In Other News…
Speaking of #13, Sota Hirayama has been called up to the Japan National U-23 Olympic Team's training camp in Saitama next week after being left off of the squad for last month's match against Angola.  He'll be joined by fellow squadmate Youhei Kajiyama.